The pieces are falling into place in our swank new office. Our misfit artists are laying the first brushstrokes on distant projects. Our testers are putting the new DLC through its paces. And our newly formed community supergroup, Trendy Entertainment Community Support (T.E.C.S.), has tapped into the power of the One Ring, backhanding hackers off the ranked servers like Sauron at the slopes of Mount Doom.
Sadly, the One Ring does not grant me additional wordsmith power, so you'll just have to make do with these weak mortal sentences.
Enter the Barbarian
The Barbarian has no need for your rings of power. In fact, he has no need for towers. Wielding a weapon in each hand, he handles the mobs of Eternia with ease. But the Barbarian is no flailing fool. This rugged man has trained extensively for years to perfect various fighting styles.
Which stance will you choose: Siphon, Turtle, Lightning, Hawk or Tornado? You'll have plenty of time to choose until the Barbarian drops into the PC battleground for $2.99. (On sale around launch for $1.99.)
Speak Friend and Enter
Do not fear to go into the Mines of Etheria, for it is here in the sacred realm of your heritage that you must assault the enemies that lurk within the shadows. By might, magic or mysticism, you must succeed, or all shall perish.
The Fellowship Loses a Member
Last week, we said farewell to a brave soul who has left the company for other adventures. Yesterday, our 360 console community gathered to give thanks to the man, the myth, the JDanford.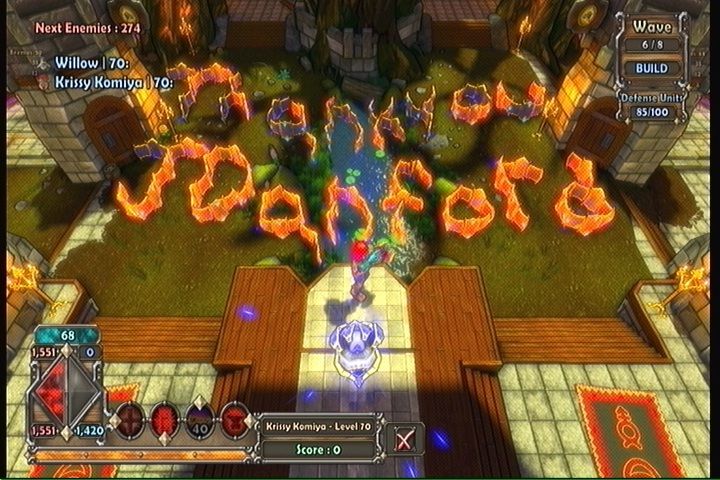 We'd like to give a very special thanks to Dredd and WarpedReality for making all of this possible.
Trendy vs. the Console World (Mistymire Console Event)
The overwhelming community response with console events has inspired us to make another of our own. But this time, there's a twist.
It's our ragtag team of community comrades against the console world in Homerun Derby. Your job will be to protect the crystals while we run around like mad people knocking creeps over your blockades and past your towers. Defensive units will be low, so place your defenses wisely. Survive the onslaught, and you'll walk away with a rare weapon.
The event will be on Jan. 26 and 27. We'll have more details next week.
12 for '12 PSN Sale
PSN fans, you can grab Dungeon Defenders for 30 percent off until next Monday. If you have PSN+, you'll get an additional 20 percent off. (That's 50 percent off the retail price!)
Head on over to Sony's blog to read more about it. And while you're there, be sure to check out the other discounted games.
Mac Dropping in February (for now)
In the spirit of keeping everyone up to date, the current ETA for the Mac release of Dungeon Defenders is sometime this February. We're taking a little extra time to ensure everything's up to par and that the PC and Mac versions play nice with each other. We'll keep everyone updated as this date range narrows down (and possible shifts a bit).
Modder's Paradise
As part of the new community focus of the website, we're going to be looking for amazing maps and mods created by our fans to showcase. Here's a few of the latest work-in-progress maps and mods that have caught our eye.
"The Spider's Web" by r3spawn
(link)
"Raid Fight" by Fantasmagore
(link)
"Fantasmagore" by Fantasmagore (link)
The Mouth of Trendy
Tonight at 10:30 p.m. EST/7:30 p.m. PST, our very own Philip Asher will be a guest on Moonhawk Studios Presents, a live podcast hosted by Michael "Mac Paladin" Prokop with Adam Dayton. Hear why all the ladies get hot and bothered by his sexy dulcet voice, and maybe get a drop or two of DunDef news.
Leave Your Website Suggestions Here
Have an awesome idea for our website update? Be sure to drop by the Suggestions forum and let us know!
And for you PC folk:
Want even more of a challenge?
Before we leave, we'd like to draw your attention to the SOPA and PIPA blackouts happening all over the web this week. The implications of these bills go beyond piracy. They threaten the vitality of indie game studios by snuffing out YouTube videos, fan art, mods, maps and other creations crafted by our fans, which help spread awareness throughout the gaming community.
If you'd like to learn more about these bills, head on over to Google's landing page. And while you're there, we urge you to sign the petition.
Take care, fellow freedom defenders,
Hitmonchan